"In the old days, it was not called the Holiday Season; the Christians called it 'Christmas' and went to church; the Jews called it 'Hanukkah' and went to synagogue; the atheists went to parties and drank. People passing each other on the street would say 'Merry Christmas!' or 'Happy Hanukkah!' or (to the atheists) 'Look out for the wall!'" ― Dave Barry
Merry Christmas, Happy Hanukkah!
Here are some things I would like to share as we cleanup the ashes from the 2020 dumpster fire of a year.
If you are fortunate enough to have a business that needs to spend some money to reduce your tax bill, we can help. We will need your computer orders no later than December 18 and of course, if you can get them in sooner, that's even better.
If you are looking for unique gifts, check out airtightartwork.com.  They say art is a good investment.  I suspect they mean art by Rembrandt and Michelangelo, but who knows?  Maybe this will qualify.  My only suggestion:  Use plastic utensils if you invite this guy to dinner.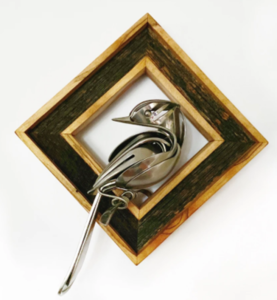 If all you want for Christmas is fewer ads and more privacy, then you will appreciate these links:
By default Google tracks what you search for, your location, your purchases, your trips and flight information, your upcoming bills and more.  Avira has posted a fun tutorial that shows  how to  disable tracking in your settings.  You can find it here: 
Facebook also likes to share, and has been known to grant partner companies access to what you liked and your friends email addresses.  Want to minimize what information facebook can collect and share about you?  Avira has created another How-To youtube video.  Find it here:  https://www.youtube.com/watch?v=zi61iD1H8M8
In 2018, The New York Times  did a study on how smartphones use location tracking.  If ever there was a reason to turn off the cell phone location feature, this is it.  You can read the article at: https://www.nytimes.com/interactive/2018/12/10/business/location-data-privacy-apps.html
If the above links don't alarm you, then you need to read the blog post at: https://blog.avira.com/why-you-should-reduce-your-digital-footprint-and-3-ways-you-can/
And now for some good news!  This is my favorite  Christmas story.  Hope you enjoy it as much as I do.  https://youtu.be/suowe2czxcA
Stay Safe, Stay Healthy and
Merry Christmas
~Janet
Because I Suffer From Insomnia AND I Have Those Same PJs!!