Scary Statistics
Here are a few important facts about the importance of data protection:
"A Company that experiences a computer outage lasting more than 10 days will never fully recover financially.  50 percent will be out of business within five years."
An estimated 25 percent of businesses do not reopen following a major disaster
70 percent of small firms that experience a major data loss go out of business within a year
Of companies experiencing catastrophic data loss:
43% of companies never reopened
51% of companies closed with 2 years
80% of companies that do recover from a disaster within one month are likely to go out of business
75% of companies without business continuity plans fail within three years of a disaster
Companies that aren't able to resume operations within ten days of a disaster hit are not likely to survive.
Of those businesses that experience a disaster and have no emergency plan, 43 percent never reopen; of those that do reopen, only 29 percent are still operating two years later.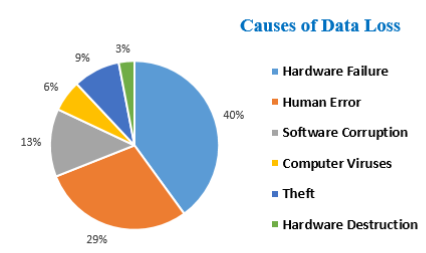 HIPAA-Secured Compliant Backup
Worried about HIPAA Compliant Backups or Secured Backups? We have a solution for that as well.  Give us a call.
Affordable On-Site Protection
There are a variety of external Hard Drives and flash drives that can be configured to backup locally.  Drop by the store.  We'd love to help you choose and configure something appropriate for your needs.
Related resources

The US Small Business Administration says:  Small business owners invest a tremendous amount of time, money and resources to make their ventures successful, and  yet, while the importance of emergency planning may seem self-evident, it may get put on the back-burner in the face of more immediate concerns.  For small business owners, being prepared can mean staying in business following a disaster.