Merry Christmas, Happy Hannukah!
It's hard to believe the year is almost over.  As we race to the finish, here are some things to consider:
Your Upcoming Tax Bill:
Did your business make money this year?  Will you be paying taxes?  If so, you might be able to take advantage of the section 179 depreciation law. 
Section 179 of the IRS tax code allows businesses to deduct the full purchase price of qualifying equipment and/or software purchased or financed during the tax year. That means that if you buy (or lease) a piece of qualifying equipment, you can deduct the FULL PURCHASE PRICE from your gross income. It's an incentive created by the U.S. government to encourage businesses to buy equipment and invest in themselves, (and reduce their tax burden).
Check with your tax accountant to confirm your eligibility for this deduction and purchase accordingly.  If you want it this year, do it soon.  The supply chain and shipping channel is in shambles.  Getting inventory is a daily battle.  We would love to have you spend your money locally, see our suggested offerings on the back.
Your Privacy:
I'm sick of being stalked.  I've turned off targeted ads.  I use DuckDuckGo as my search engine, and still I've got ads following me.  Co-workers were telling me they had a verbal discussion about birds the other day and suddenly their browsers were inundated with bird feeders.  (Makes me question the purpose of Alexa.)  If you want to take back your privacy, take a look at a new browser,  Brave, and stop being followed online. Brave blocks all creepy ads from every website by default. And that thing where ads follow you across the web? Brave blocks that, too.  Download brave at https://brave.com/
Your Credentials
I can't image how I would do my job without Microsoft products.  I had a small panic attack when this email hit my inbox.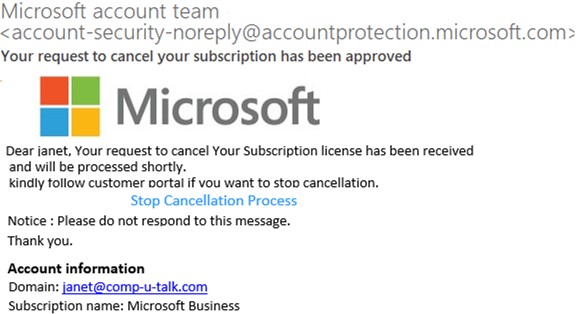 Hovering over the "Stop Cancellation Process" Link yielded this: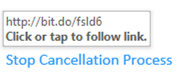 That doesn't look like a Microsoft link to me!  Be careful what you click!  We want to keep the "HAPPY" in the "HOLIDAYS"!
Because it Made Me Laugh!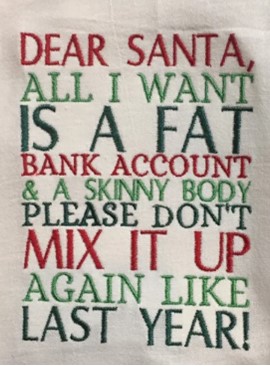 Stay Safe, Stay Healthy!
~Janet