All you need is love. But a little chocolate now and then doesn't hurt.
~Charles M. Schulz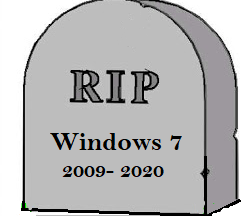 On January 14, 2020, Windows 7 was removed from life support. Past experience tells us Windows 7 will continue to live and breathe on it's own for awhile but it will no longer receive security updates and Microsoft customer service will no longer be available to provide Windows 7 Tech Support. Which might be a blessing. Now, when the degenerate calls claiming to be from Microsoft (or Windows) and tells you he can fix your computer, you will most definitely know it is a scam because 1: Microsoft never calls anyone and 2: Windows 7 can't be fixed.
But really, what are security updates and why should you care?
Security updates are patches. Sometimes they include feature enhancements and performance improvements. More importantly, they include bug fixes. They are designed to fix any of the issues and vulnerabilities being exploited in the wild.
If you never go on the internet (and yes there are two of you left that never go on the internet) then you don't care. For the rest of you, continuing to run Windows 7 puts you at risk for being hacked. Running windows 7 is a huge incentive for malicious users to target viruses, malware and ransomware at you.
A legitimate question I hear is: What do I do if my specialized software won't run on windows 10?
I have three answers:
1. contact the company and ask them when you should expect an updated version.
2. Purchase an updated version if it is available.
3. Take the computer off of the internet.
Need a solution?
There are three:
1. You can upgrade if your device is new enough. We recommend only doing this on computers that are less than 4 years old. We also recommend a minimum of 8 gig of RAM and at least 30 gigs of available hard drive space.
· Pros: Inexpensive and your data and programs remain unchanged.
· Cons: You are putting new software onto hardware that isn't designed for it. Pleasant results may vary.
2. You can replace the computer.
· Pros: You get a new computer with new hardware. Hardware, like AA batteries, does wear out.
· Cons: more expensive and programs need to be reinstalled and data needs to be moved.
3. You can purchase extended support from Microsoft.
· Intended for Enterprises while they work toward replacing computer's.
· Initial speculation says extended support will be available for $25-$50/per device/per year, with the price doubling in the second year and doubling again in the third year and not available in the fourth year.
Please reach out to us if you need to upgrade, replace, or just need a tissue while you cry over the loss of Windows 7. Comp-U-Talk is here to help.
~ Janet
In Honor of Valentines Day