Life is either a daring adventure or nothing.- Helen Keller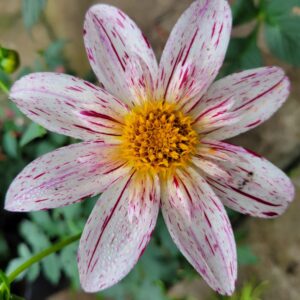 Last month I mentioned April Showers Bring May flowers, and that is very true on the Riley Farm.  This month I will begin the planting of roughly 2000 dahlias.  I threw together a quick website at www.rileyblossom.com.  I have two catalogues available.  The first is of dahlias that are available for sale now, the second shows dahlias that I may or may not continue to grow.  If you see something you like in either catalogue, let me know.  Contact info for the dahlia farm is in the catalogue. 
That's my shameless plug for personal endeavors, now on to computer related stuff.  I was recently introduced to Microsoft Forms.  This is touted as a free feature of Microsoft 365, but it also works if you have a buy-it-once-and-own-it-forever version of office.   All you need is a Microsoft account.
What Is Microsoft Forms?
Microsoft Forms is a drag-and-drop form, quiz, and survey creator. It's simple to use and allows you to send out surveys via a link. Recipients can fill out your form online from any device.
How to Get Started in Forms:
1. Visit Forms.office.com and log in with your Microsoft account.
2. Choose "New Form" or "New Quiz" from the top menu.
3. OR you can choose to explore the built-in templates.
4. Click "Add New" to add a new form field. You can choose from field types: Choice (i.e., multiple-choice question), Text, Rating, Date, Ranking, and more.
5. Enter your questions.
6. When finished, click "Send" at the top. You can distribute the survey using the following options:
Link to a web form, Email, QR code, Embed in a web page, Via Facebook or Twitter.
When the responses start coming in, you will see them on the "Responses" tab.
Advantages of Using Microsoft Forms
1. It's Free if you have a Microsoft Account
2. It Saves Time -No emailing attachments back and forth, and Forms collates survey responses automatically.
3. Get Charted Results -You can quickly see the results of the survey in meaningful graphs.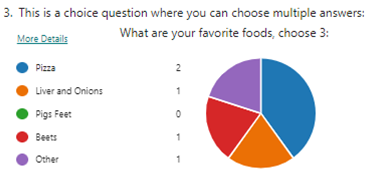 4. It's Easy to Use -The interface is intuitive and simple. The learning curve is low. Just about everyone can jump in and start using it.
Want to experience it in person?  Take my sample survey here: https://forms.office.com/r/CjsXb567v7
Summary: Planning the family reunion just got WAY easier!! Hope you find this useful.
Stay Safe, Stay Healthy
Janet
Because It Made Me Laugh!!