When All Else Fails, Take a Vacation!  ~Betty Williams
---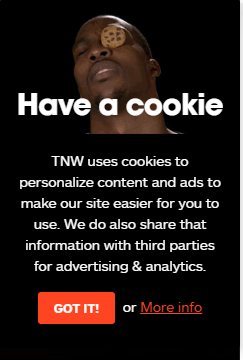 Ah, Summer….  A time for outdoor fun and picnics. And no picnic is complete without cookies.  Fresh, hot-out-of-the-oven, gooey, chocolate… because chocolate chip is the only real cookie, unless I'm trying to earn Brownie Points with Neal, and then I make Oatmeal Raisin Cookies.  It got me thinking.  Computers like cookies.  Are computer cookies calorie free?  Inquiring minds want to know!  
The picture to the left popped up on www.thenextweb.com.  The definitions that follow are a small part of what you will find if  you click the More Info button.
 What is a cookie? 
 When offering services via our Platform we or a third party can place  cookies. A cookie is a small data file that your browser places on your computer or mobile device. Cookies can be "persistent" or "session" cookies. Persistent cookies remain on your computer when you have gone offline, while session cookies are deleted as soon as you close your web browser. The third party cookies of third parties are installed by third-party websites, such as advertisers. They gather data about your browsing habits, and allow them to track you across multiple websites.
 What cookies do we use?
 We use cookies to help us remember non-personal data such as your user preferences to optimize your user experience on our Platform or to recognize your device the next time you visit our Platform. Certain cookies contain personal data for example, if you click on 'remember me' when logging in, a cookie will store your username.
Cookies can be categorized by the role they fulfil on our Platform:
Functional cookies are essential in order to enable you to use and move around our Platform and to ensure that our Platform functions properly.
Analytical cookies are used to collect information on visitor behavior (e.g. the pages you view most often) to optimize the usability of the Platform.
Advertising cookies are used to follow browsing behavior over a longer period of time across various websites. These cookies build individual user profiles according to their interests. Based on these interests, the content of the advertisements on our website will be adapted for different visitor groups.
Social cookies are used to enable logged on users of selected social media sites to directly share content from the Platform.
Those ads that seem to follow you everywhere, it's no coincidence. It's cookies.  If you are tired of the added  calories, you can clear the cookies.
 In Internet Explorer
Click on the Tools Menu, Choose Internet Options.  On the General Tab, click  Delete and put a check mark in Cookies and website data.  Add any additional check marks with caution.
For Edge
Click the Star with 3 bars to the right of the address line.  Choose History, then Clear History.  Select Cookies and saved website data (and any other options with caution).  Click Clear.
For Chrome
At the top right, click the triple dots, choose more tools,  then clear browsing history.  Pay attention to the Time Range drop down and the Basic & Advanced tabs.
 That's it for this month.  Until Next Month, remember to Keep Your Data Safe!
 ~Janet
---
Because It Made Me Laugh