One thing life has taught me so far is that kindness is like a boomerang, it always comes back to us. ~Judith Maduhu
Welcome to February and the "LOVE" month.  After the bitterness of everything "2020", I'm really desiring some happy thoughts.  My girlfriend cheered me up with pictures of the quokkas.  Aren't they adorable?  I love their smile!  I miss seeing smiles…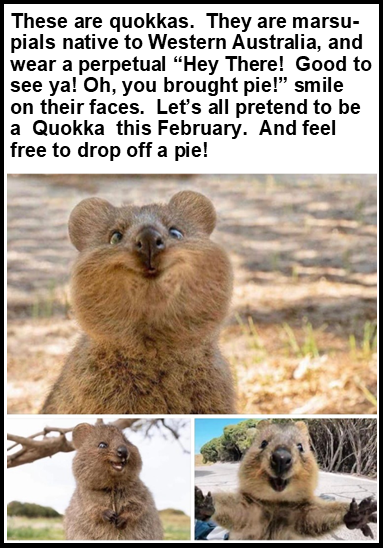 This month's question/comment is: "All of my friends are trading in their desktop computers for laptops, I guess I should too! But I'm not sure why?"
This was my reply:
Laptop/Notebook computers are awesome when you have limited space or need to be mobile. But the truth is, you will always get more bang-for-the-buck with a desktop computer. Here is why:
Desktop computers have better cooling. Heat is not a computer's best friend. Periods of prolonged heat will damage the computer.
Desktop computers can have multiple monitors and larger monitors. If your eye sight isn't what is use to be, then having a 23 inch or 27 inch display is wonderful. A large laptop display is 17 inches and a standard laptop display is 15.6 inches. Laptops will let you attach an additional monitor. So you can have 2 displays, but the sizes will be disproportionate. Sometimes that causes problems.
Because stand-alone monitors are connected via cable, and not permanently attached to the computer housing, you can set them in ergonomically ideal locations.
The same is true for the keyboard and mouse. If you are spending hours working on the computer, it's nice to not be hunched over a little keyboard, peering into a small screen. It makes my shoulders ache to just think about it!
The CPU determines the speed of the computer and to a large extent, the price of the computer. CPU's come in desktop versions or laptop versions. The desktop model comes with a huge cooling fan and is typically less expensive than the laptop model. When you factor in the life expectancy of a laptop at 2-3 years versus the life expectancy of a desktop at 4-5 years, then the desktop is definitely the better bargain.
And take a look at the latest arrival in the desktop lineup.  These are pictures from our glass-sided case with the AMD Ryzen 7.  The lights cycle through the rainbow of colors.  As long as you're working, you might as well have something pretty to look at!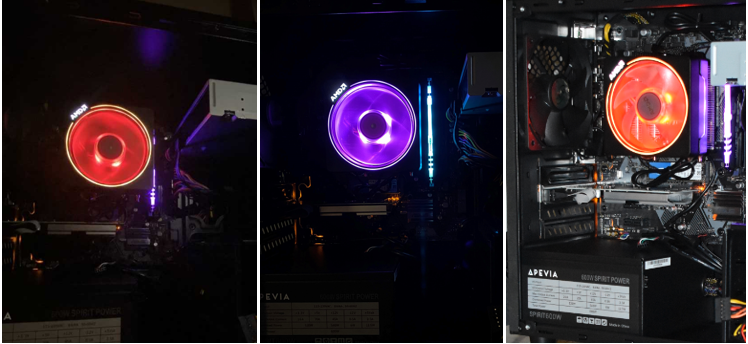 Stay Safe,
Stay Healthy
Come Visit -with or without pie!
~Janet