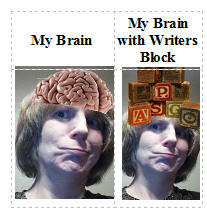 Last month I promised to convert this newsletter to an email version and this month I can't think of a thing to write about. I'm including pictures of what happens in my head.

A mish-mash of things happening in cyber sphere:

Tax season is here and the IRS has released the dirty dozen tax scams. Per IRS request: If you receive an unsolicited email that appears to be from either the IRS or an organization closely linked to the IRS, such as the Electronic Federal Tax Payment System (EFTPS), report it by sending it to phishing@irs.gov.

It is important to keep in mind the IRS does not initiate contact with taxpayers by email to request personal or financial information. This includes any type of electronic communication, such as text messages and social media channels.

To see the other 11 tax scams visit http://www.irs.gov/uac/Newsroom/IRS-Releases-the-"Dirty-Dozen"-Tax-Scams-for-2014;-Identity-Theft,-Phone-Scams-Lead-List

Valentines Day is the cyber criminal's picnic. They will be offering flowers, chocolates and jewelry at unbeatable prices. Please remember:
s Replying to spam will confirm your email address is valid
s Just because the link says it is going to take you to gifts.com does not mean it will. The underlying code could take you to identitytheft.org. If you are planning to follow the link, type it in yourself.
s Viruses hide inside of attachments. Don't open attachments! And… What your mother has been telling you since adolescence:
s If it sounds to good to be true, then it's probably very evil.

3D Printers are becoming more affordable and what they can produce is absolutely amazing. For the life of me, I can not come up with a single viable reason as to why I have to have one but I'm more than willing to come play with yours. Need inspiration? Watch the demo at http://www.wimp.com/functionaltools/

Microsoft has officially announced Windows 10's features and it includes holograms. Holograms? A major premise of 10 is you will able to run the same operating system on your computers, tablets, xbox and phones. But with holograms you will be able to interact with it in 3D (Microsoft HoloLens required). There are three amazing videos at http://www.microsoft.com/microsoft-hololens/en-us. I've take a keen liking to the Jet Propulsion Laboratory video because hubby has a cousin working there.
Until Next Month, Stay Safe & Keep Dreaming,

~Janet