Comp-U-News from Comp-U-Talk
October 2013
---
"The best thing about the future is that it comes only one day at a time." - Abraham Lincoln
---



I've been getting a lot of junk phone calls lately and on October 1st, was pushed past my limit. I went out to register my phone numbers with the "DO NOT CALL" registry and received the message posted above. I laughed. I can't decide if the message above is more funny or more sad. See, the Do Not Call Registry is just a database. Once it is programmed it should pretty much run itself. It will need someone to maintain the server occasionally, but I don't understand how they think they will save more than a few dollars a day by shutting down this database. So anyway… funny? Or sad? You decide.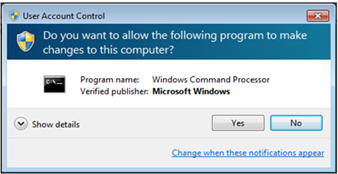 On to things that are definitely not funny: I'm a fan of Cyberheist News and they have shared the latest computer malware. It is called FBI: "Beta Bot". This particular malware can turn off your antivirus and steal your user name and password when you log into your banking institutions, e-commerce sites, online payment platforms and social networks.
It pretends to be the User Account Control, and if you click on yes, it will infect your computer. If the message to the left shows up unexpectedly, DO NOT authorize any changes.


Beta Bot is a commercial malware, which means it was made by cyber criminals to sell to cyber criminals with the specific purpose of stealing your personal information. It is of high quality and difficult to get rid of. So consider yourself warned.


Surf Safe,
~Janet>