"Life is movement. It's the person who sits on the couch who's living dangerously."—Grete Waitz
It seems as if every day someone mentions their computer doesn't run as fast as it once did. Sometimes, they will try to suggest it is my fault. I have even been told, "You were able to make it run faster when I brought it in five years ago! And it worked really well after you worked on it three years ago! So how come it doesn't seem any faster after you worked on it yesterday?"
The answer: Fast is relative. If you are using a newer computer at work and then go home to an older system, there is nothing reasonable I can do to make the older system's speed match the newer.
Here is an analogy: Let's pretend you have VW bug. When the bug is brand new, it runs wonderfully. Let's also pretend that every month you are required by some obscene law to put 10 pounds of bricks into the trunk. The bricks have to stay there forever. It's inconvenient, but doable. It's 120 pounds of bricks per year. After two years you are carrying an extra 240 pounds of bricks, after 5 years you dragging 1200 pounds of bricks everywhere you go. Now I ask, how well is the VW going to accelerate up a hill after 5 years of bricks have been added?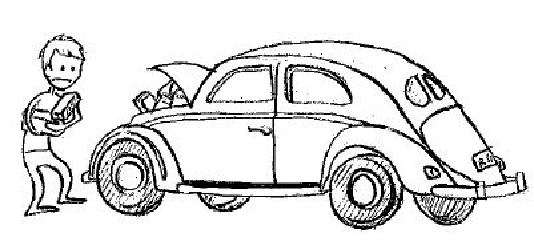 The same is true of your operating system. The 2nd Tuesday of every month is known as patch Tuesday. This is when Microsoft releases major fixes (aka updates) to the operating system. This is the equivalent of adding 10 pounds of bricks to your trunk every month. These bricks can't be removed without risking attack from outsiders. Your antivirus software updates daily. This adds more bricks. The bricks are unavoidable. As the system ages, it starts to slow under the added weight of a larger operating system and larger antivirus databases. It is unavoidable.
What is the cure?
First, you should always buy the fastest computer you can afford. Doing so will delay the onset of the sluggishness you are going to experience from the onslaught of bricks.
Second, you can consider adding RAM or upgrading the processor. RAM is the most cost effective. Depending on the age of the system, upgrading the processor might not be possible.
Third, you can treat the old system with love and respect. After all, it's old.
Finally, you can replace it. If that idea makes you cringe because you've heard the horror stories about Windows 8, relax… We still sell computers with Windows 7. Details are on the back.
It's time to -- Start your engines!!
~Janet